Demi Makeup is truly the way makeup should have always been used. Years from now, we will look back at the sea of beige we were painting and spackling over our beautiful faces and wonder, "What took us so long?"


The Demi Colour Story by Cara Brook
According to the creator of Demi Colour, Cara Brook:
I remember thinking, "When will scientists or chemists make a foundation that is smooth, doesn't crease, doesn't separate, and covers imperfections but looks like luminous skin?"


After searching high and low, researching, and testing, I resigned myself to thinking, "It can't be done. We could get some of what we want from any given traditional foundation, but sheer physics make getting everything we want impossible." We want imperfections covered; we want our best features enhanced; we want our skin to look like skin; and our best bet is giving up a little of each until we meet in the middle. A compromise.


But then, almost by accident, but also by devotion, determination, and an inability to settle for fragmented beauty, we discovered that traditional foundation has been used all wrong all along. It is still true that no foundation can ever or will ever give you everything you want; that's what we couldn't see at the time.

Traditional foundation itself was the problem and manipulating and improving or changing it was never going to be the solution. The solution was to forget everything we think we know about makeup and start over.


---
Key Takeaways
Demi Colour (Demi Makeup) is a breakthrough makeup approach that filters away excess color on your skin.


It is not foundation or concealer, but a sheer filter that utilizes color science based on your skin's changing needs.


Demi Makeup blends with your skin tone, lasts all day, and never looks muddy or cakey.


It allows your unique natural beauty to shine through and works on all skin tones.
---
What is Demi Makeup?
Demi color makeup is a breakthrough approach to makeup by Seint. Demi color corrector is carefully calibrated saturation of cream color that is strategically applied using a featherlight technique. It leaves your skin your skin natural, resulting in an undetectable appearance.


Demi makeup is based off of color science that blends seamlessly on the areas of excess color. This is NOT your drugstore color correctors that need foundation to be placed over top of Demi is a color canceling, color neutralizing product.


Demi Colour leaves a stunningly smooth texture to enhance the beautiful features of your face without losing radiance to your skin.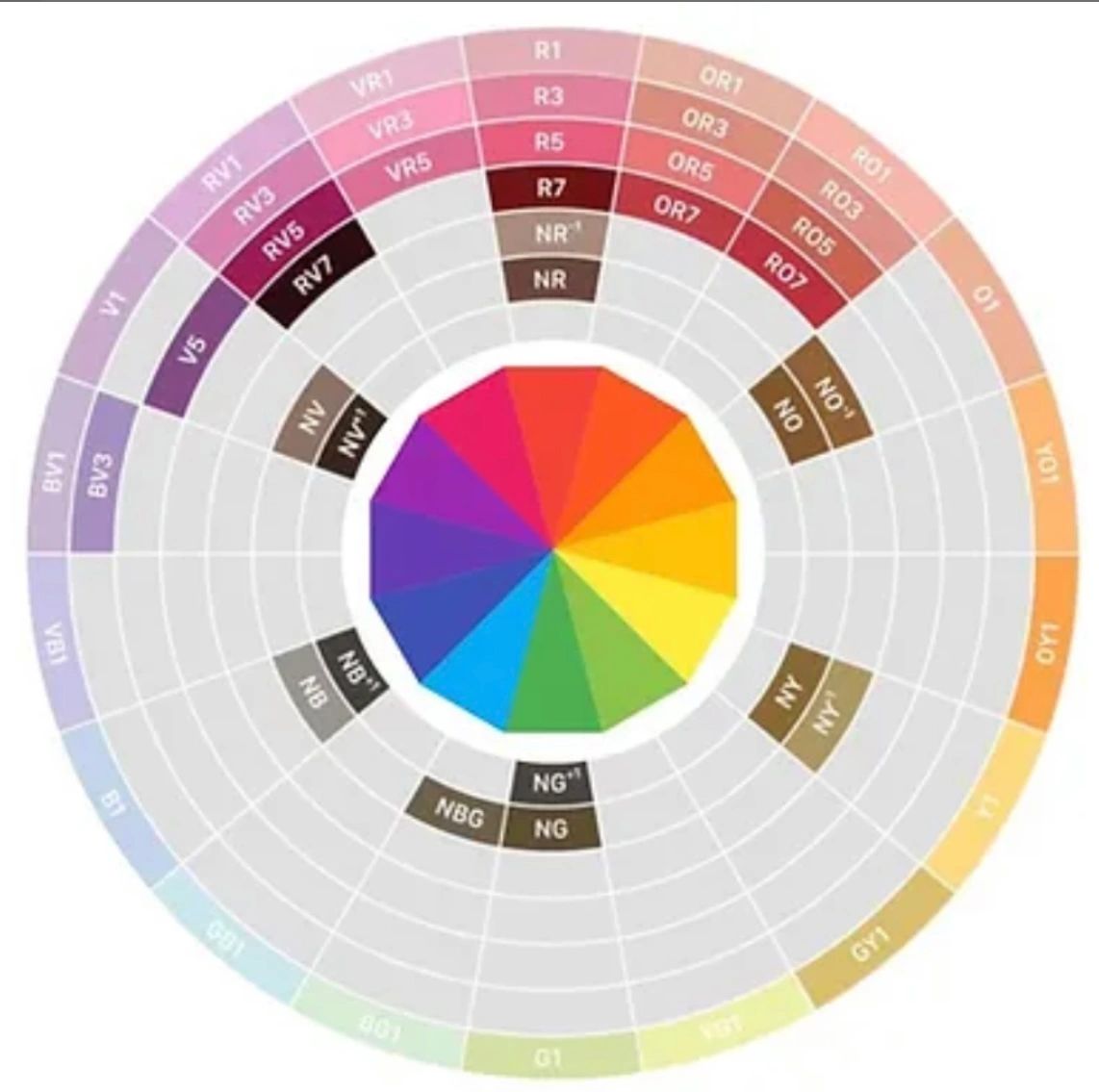 Why choose Demi Colour?
Seint's Demi Color Corrector is designed to help neutralize and correct various skin discolorations, such as dark circles, melasma, redness, and blemishes.


You don't wear much makeup but would like to cover up some areas on your face.


You have "spots" on your face that your foundation doesn't cover.


You have acne or acne scarring.


Your concealer or iiid foundation is creasing around your under eyes, mature skin or you can't get the coverage you need.


You don't like the feel of makeup on your skin.
---
Demi Colour Addressing Skin Concerns
Demi Makeup is available from Seint, and each Corrector is designed to address a specific skin concern:


Green – neutralizes redness


Yellow – brightens dull skin and filters purple dark circles


Peach – corrects dark circles on light to medium skin tones


Apricot – corrects dark circles on medium to deep skin tones


Lavender – corrects yellow undertones and brightens sallow skin


Mint – corrects redness and helps reduce the appearance of acne.


---
How do I use a Demi color corrector?
To use Seint Beauty's Demi Color Corrector, you can follow these general steps:


Start with clean, moisturized skin.


Sit in front of natural light and practice identifying excess color on your face. I'm here to help you, send me a bare-faced selfie in natural light if you need.


Identify the areas on your face that you want to correct, start with just three. Don't obsess. Depending on the shade of the Demi Color Corrector, this would include dark circles, redness, sallowness, or blemishes.


Using a small brush (Spot brush) apply a light touch of Demi corrector directly to the places on your skin that need color correcting.


Press the corrector into your skin using tapping motions, making sure ` to blend the edges so that there are no visible lines or demarcations.


If using Demi makeup with your IIID foundation you will want to use Demi last.


It's important to note that less is often more when it comes to color correctors, so start with a small amount and build up as needed. Also, keep in mind that the effectiveness of the corrector will vary depending on your skin type and the severity of your skin discoloration, so it may take some trial and error to find the right shade for you.


Evaluating Skin Tone
This is the trickiest part of Demi Colour because the colors pictured on the color wheel show up differently on real skin. To determine excess colors, ask yourself these questions:


Would I consider my skin light, medium or dark? This question is important because of the following generalizations.


Fair Skin
Will have lots of different excess colors because it is almost translucent. Veins, pigment and redness will all be more vibrant on someone with fair skin. Most used Demi colors: R1, RO1, O1, YO1.


Medium Skin
If you have medium skin that has a lot of olive tones (olive being green) you will likely not be using too many REDS (R1, OR1, RO1) because that would fight against your natural coloring. Most Used Demi Colors: O3, YO1, OY1, RO3 sparingly.


Dark Skin
Because blue is the darkest color, we know that dark skin has a lot bluer in it meaning that the colors in excess will most likely just be blue and purple. Most used Demi correctors: O3, O5, O7, OY1,YO1, NY-1 (this is currently our most saturated yellow works well to filter dark points on darker skin tones).


---
How to choose which Seint Demi makeup colors are right for you?
If you want to begin with just a few Demi color correctors to get started, these are the ones I often recommend and use myself daily.


-O1 and O3 for dark circles and under eye area. O1 (light orange) and O3 (medium orange) help filter out the presence of blue. Most areas of your face that you see darkness have blue in them.


-RO1 and RO3 for sunspots, age spots or melasma. RO1 (light red-orange) and RO3 (medium red-orange) help filter out muddy brown or mulchy green shades.


-YO1 for redness, broken capillaries and blemishes. YO1 (light yellow-orange) is most used to filter out areas that contain purple-blue areas.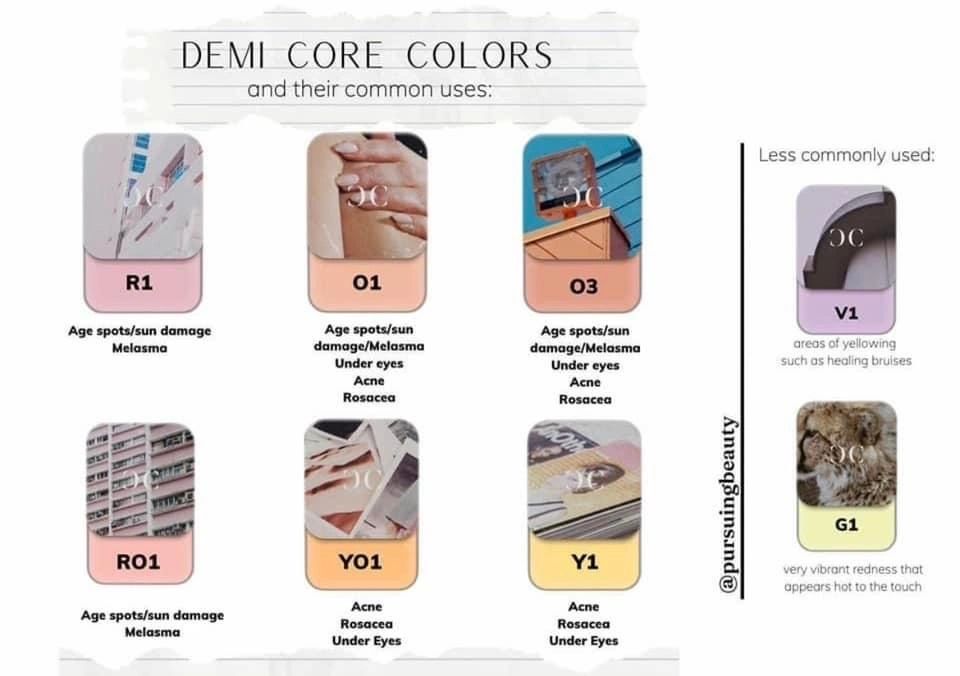 ---
How to Get Started with Demi
To begin your journey into Demi Colour, I recommended you look at selecting a pre-built curated Demi Edit Collection OR you can receive a complimentary color consultation through my color match link. These options will help you in choosing the right Demi Corrector shades that will enhance your unique beauty.


Demi Edit Collection
When you choose a pre-built curated Demi Edit Collection, you will have a selection of shades that have been carefully chosen to work harmoniously together. This takes the guesswork out of selecting individual shades and ensures that you have a cohesive and flattering look.

The Demi Edit Collections are the best way to get started with Demi. These are pre-built curated Demi colour built for a specific need, though many of the colors overlap in these collections. Here's the three Demi Edits and the shades in them. Let me know if you need help choosing an Edit Collection that is right for you.


3 Demi Edit Collections Seint Offers

Wide-Awake Edit
This collection brightens your under eyes and leaves you feeling fresh-faced with this collection. The wide-awake edit brings back to life sleepy or dark under eyes. Includes the Demi Correctors O1, YO1, Y1, O3, R1 and RO1.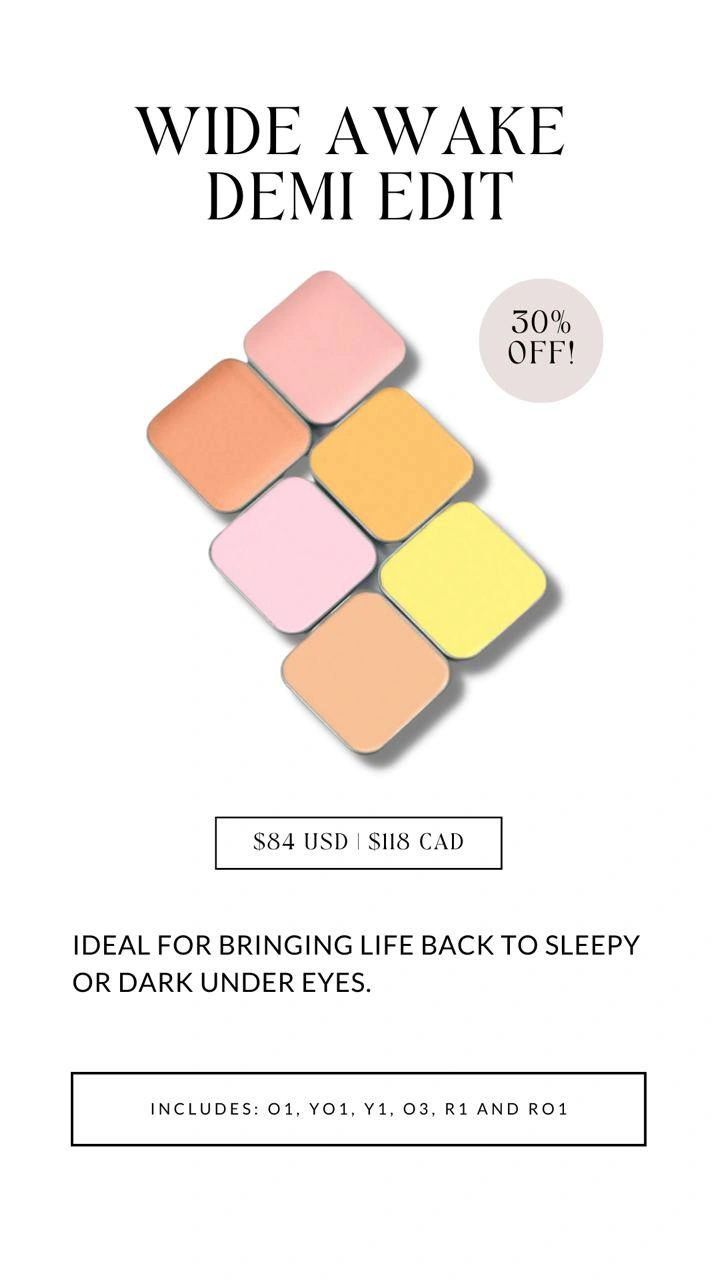 ---
Erase Edit
The Erase Edit is ideal for erasing blemishes throughout their whole life cycle from bump to post pigmentation or scaring. The Demi correctors include RO1, O1, O3, OY1, YO1, and G1.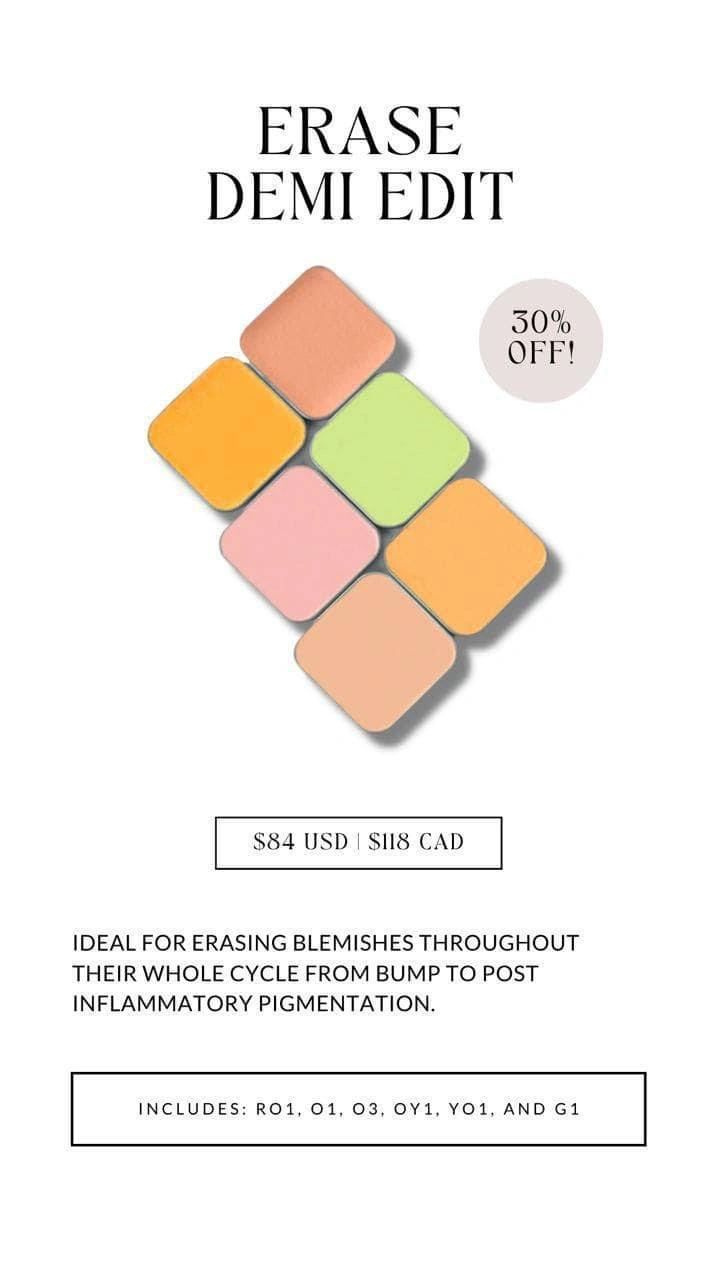 ---
Rewind Edit
The Rewind Edit is your answer to age spots to freckles to melasma. By focusing on trouble spots, you eliminate the need for multiple layers of coverage. This edit includes YO1, RO1, R1, OY1, O3, and O5.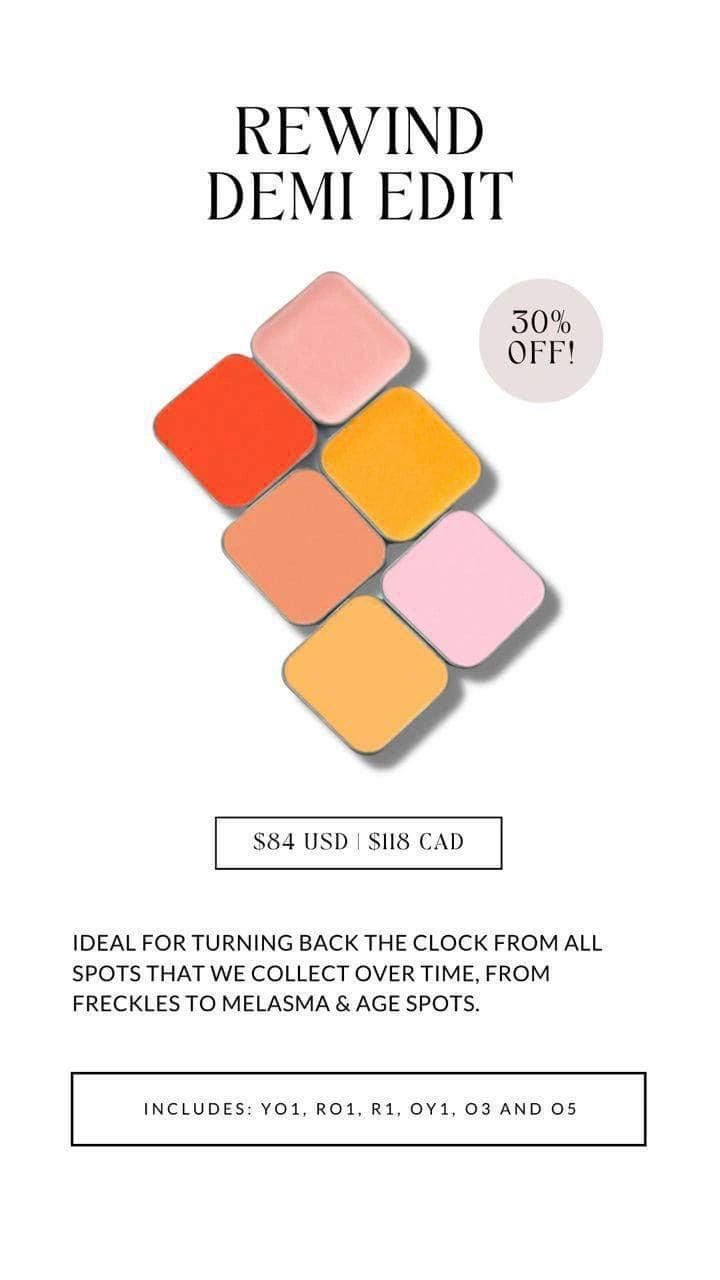 ---
FAQ: Questions I get asked most often?

Can Seint Demi Color be used with IIID Foundation?
Yes, even though Seint Demi color was originally designed to be used alone it is often now used in combination with IIID foundation, a hybrid of the two. I often use the two in combination, but you will want Demi correctors to sit onto natural skin, not makeup. So, I recommend if you want the color correction of Demi with the skin coverage that IIID? Then begin color correcting with Demi makeup on bare skin and then add IIID lightly over top of it.


Do you use a primer or setting spray with Demi makeup?
No, you do not need either. You're using such a teeny-tiny amount of makeup with Demi makeup that once it's applied it stays put and never creases. If you use a primer as you skin prep then go ahead and continue using it. The finish of Demi makeup is the same as your natural skin texture.


How long do the colors last?
Each tin should last for about a year! Some colors you will use more often. For example, if you have dark under eyes and use O3 to correct the darkness daily you will use it more than G1 for an occasional active blemish.


If new to Seint where should I start? IID Foundation or Seint Demi?
I recommend most of my customers start with IIID foundation since it's the most similar to what you have been using prior. You can add in Seint Demi at any time. Since they are each quite different it really depends on what makeup look YOU are wanting to achieve. I use them both depending on what I am doing that day and what kind of look I am wanting to achieve.


Can Demi Colour be used as a standalone product, or does it need to be used with IIID Foundation?
Yes, Demi Colour can be used as a standalone product without IIID Foundation. If you love the "no makeup makeup" look you can absolutely just use this product alone. If you have a lot of evening out needed in your skin, you may want to use IIID to soften the skin.


How do I determine which complimentary colors to choose for filtering with Demi Corrector?
When choosing a complimentary color for filtering with demi corrector, it is important to consider the excess color in your skin. The color wheel can be used as a guide to select a color that will neutralize or balance out the excess colors effectively.


Can Demi Colour be used to cover up specific imperfections, or is it solely for changing the overall color of the skin?
Yes, Demi works beautifully in filtering out many different imperfections such as acne, hyperpigmentation, rosacea, dark under eyes.



Can Demi Corrector be layered for more coverage, or are they meant to be a sheer filter?
No, Demi Corrector is not meant to be layered. Ideally, they are best placed on makeup free skin however, I have used them on my sunspots after I have applied a thin application of my IIID highlight.



Is Demi Colour suitable for all skin types, including oily or dry skin?
Yes, all skin types can use Demi colour. Since you are using a small amount of a cream product it will lay beautifully on all skin types.

Is Demi Colour Hard to Learn?
Like with any new thing you learn, it takes a little more time because this is nothing you have ever done before. Be patient with yourself and ask questions when you need help. I am here to help you.
Do I need to get a Seint color match for Demi color makeup?
No, you do not, however if you are struggling with determining what colors are in your skin then It is helpful for me to guide you at first. These colors work on all skin tones year-round to neutralize all skin concerns. For a deeper dive on the Seint Color Match process or to learn more about me, I can help you find the colors that will work for you.


Ready to start but need help choosing Seint Demi Color? Fill out my form below and I will guide you to a Demi edit or a few shades to address your area of concern!


*** SEINT COLOR MATCH FORM HERE ***


For the full array of Seint Makeup products click here!



See all your options with the Seint Makeup Palette!

->> Learn More about Seint Beauty


Updated on November 25, 2023
What is Seint Demi Color Makeup and How Does it Work Video
I am a Seint Makeup Expert (Seint Artist), beauty and skincare educator, 30-year dental hygienist, mom of two boys and a bonus daughter. If I'm not pursuing my passion for beauty, skincare, and wellness, you can find me hiking, kayaking/paddling, or in the kitchen baking my latest obsession with sourdough bread!
I have provided a Seint Color Match for hundreds of women over the years. I love helping women of all ages find simplicity in their makeup routine so they can feel beautiful in their skin!