---
How to get a Seint Makeup Color Match!
This article will cover in depth Seint Makeup Color Match, including all three options on how to get color matched, its benefits and how it works. Seint's (formerly Mascara Makeup) revolutionary IIID foundation is what makes up the concept of ColorMatch Makeup (Seint Color Matching). It was created on the principle "that helping others look beautiful is nice but helping them believe they are beautiful is life-changing" Cara Brook a beauty blogger and makeup artist.



By using the Seint color matching system of highlight and contouring, it allows us to use less product and simplify our beauty routines. This IIID Foundation was based on how to apply Seint Makeup color to a specific area to the face and then blending it out to a seamless finish.


This uniquely intuitive and personalized approach has inspired thousands of women to refine and radiate their own beauty.


ColorMatch Makeup (Seint Color Matching)
Colormatch makeup has become a revolutionary part of the beauty industry as people strive for a flawless, natural-looking complexion. Seint makeup is completely customizable and allows you to have your whole face in one compact, minus your mascara.


No longer will you need to spend wasted time searching through a case full of products and potions. You will easily be able to keep a compact with you wherever you go.


How to Choose Seint Colors for Your Skin Tone
In the past, finding the right shade of foundation was a tedious process with trial and error. Now it is super easy to have a trained Seint artist like me perform a Seint color match on you virtually, without ever leaving the house.

I have worked with women of all ages to help them select the right shades and I would love to help you too. I have lots of experience in doing this!


If you're someone who's always struggled to find the perfect shades of foundation or you're simply tired of wasting time and money on products that don't work for your skin tone. Then you should definitely try a Seint Makeup Color Match using Seint IIID foundation.


The Seint color matching unique approach to makeup is all about finding your perfect shade match and creating a customized, three-dimensional, flawless finish that looks natural and effortless.


Why Choose Seint Color Match
Seint Color Match takes the guesswork out of shade matching. One of the biggest challenges when it comes to buying foundation is finding the right contour shade for your skin tone.

My Seint color match quiz makes this process simple as I take into account your skin type, undertones, and how you like to wear your makeup. This means you can shop with confidence, knowing that the product you're buying is tailored specifically to your needs.


Seint Makeup offers a range of customizable coverage options. Whether you prefer a full coverage look or something more natural and dewier, Seint has you covered. Their ColorMatch Makeup system (Seint Color Matching) allows you to mix and match different shades and finishes to create a look that's uniquely yours.

This means you can create a personalized formula that works for your skin type and delivers the coverage and finish you want.


Seint Beauty products are made with high-quality, natural ingredients. Seint products are all cruelty-free, sulfate-free, paraben-free, gluten-free and made with ingredients that are gentle on your skin.

Seint's IIID foundation is formulated with nourishing ingredients to hydrate and protect your skin while providing the coverage you need. There is no SPF in this makeup, so you get to choose what kind of sunscreen you want to put on your face.

This means you can look good and feel good about what you're putting on your skin.


Seint IIID foundation is easy to apply and long-lasting. Seint Makeup products are designed to be easy to use, even for makeup beginners and especially on mature skin. After assessing what your needs, I can recommend a variety of tools and brushes that make application a breeze and keep it on until you are ready to remove it.


How Do I Get a Seint Color Match?
Submit Photo for Custom Color Match!
or
Take Seint Color Match Quiz Now!

As an independent Seint Makeup expert (Seint Artist) with Seint since 2020, I have performed hundreds of Seint color matches to find their custom shades and begin to simplify their makeup routine. And I can help you too. From teens to 80-year-olds, I have been able to help women love the way their skin looks and feel by gaining confidence in how they show their faces to the world.


When you are ready to get color matched, head on over to my Seint Color Match Quiz or Seint Color Match Form (Photo) on my website. This should only take you a couple minutes to complete. Answer all the questions to allow me to build you a Seint custom palette with your custom shades. The selfie (color match picture) you submit is safe with me, I will delete it once I complete your Seint color match process.



Tips For Taking a Seint Color Match Picture!
Start with a clean face, no makeup.
Clean your phone screen off to get a clear picture.
FACE the window during the day. No outside pictures, car selfies or bathroom mirror selfies.
Face the window like you are waving to your neighbor
Now stand 2-3 feel back from the window in indirect sunlight
Make sure there are no lights on above or behind you casting shadows.
Focus your camera and snap away
Take a few angles
Make sure your neck and a little chest is showing in the color match picture.
Send me your 'makeup free' selfie so that I can determine the correct shades based on your skin tone and undertones. Upload your color match picture to my Seint Color Matching Form and I will have your custom shades back with 24 hours.



What Will You Receive Back from Me?
Once I receive your Seint Color Match assessment, you will receive an email letting you know I am working on your custom palette shades.

I will then send back your results with an picture of you and all your perfect shades for your skin tone, along with a complete email on how to get started including where to put each color. You will then be given a link to shop for your Seint colors.

What Extra Help and Guidance Will You Receive from Me?
I go live on my Facebook beauty group weekly showing how to get started and use the makeup (see link at the bottom) . If you find you need additional help I can do a FaceTime or Zoom call with you too. I truly want you to find joy in getting ready each morning knowing your skin looks beautiful.



Have You Already Received a Seint Color Match?
If you have already had a Seint color match by another artist, trust their assessment, I do not give second opinions. It takes a fair amount to time to closely zero in on all the difference between colors in a Seint color match and as an artist I take pride in my customer service.

If for any reason, there is a color not quite right then you have 30 days to swap it out for another contour shade or receive a refund if the makeup doesn't work for you. I am always checking in to make sure the colors you purchase look good on you. Do not hesitate to reach out to me.


Can I Purchase the makeup without submitting a Seint Color Match Quiz or Form?
Yes, Seint now has released shade collections which allow you to choose your shades. Once in the Seint collections tab, choose what collection fits your budget then click on "Find Your Shades".


Within each Collection there are eight levels to choose from. Levels are based on different skin tone options so that you will be able to choose the right shades for you. If you need any help, I am available to guide you.


The No. 8 Collection is my recommendation for newbies to Seint Makeup. This collection will give you an additional lip and cheek shade, an illuminator and a cream bronzer. If you haven't used a cream bronzer yet, trust me you will never look back. There is something for everyone in these Seint collections.


The only thing I recommend you add additionally is a setting spray to lock in your makeup. Seint has a setting spray or use the setting spray of your choice as long as it doesn't have a silicone in it. Silicones prevent cream foundations from locking down on the skin.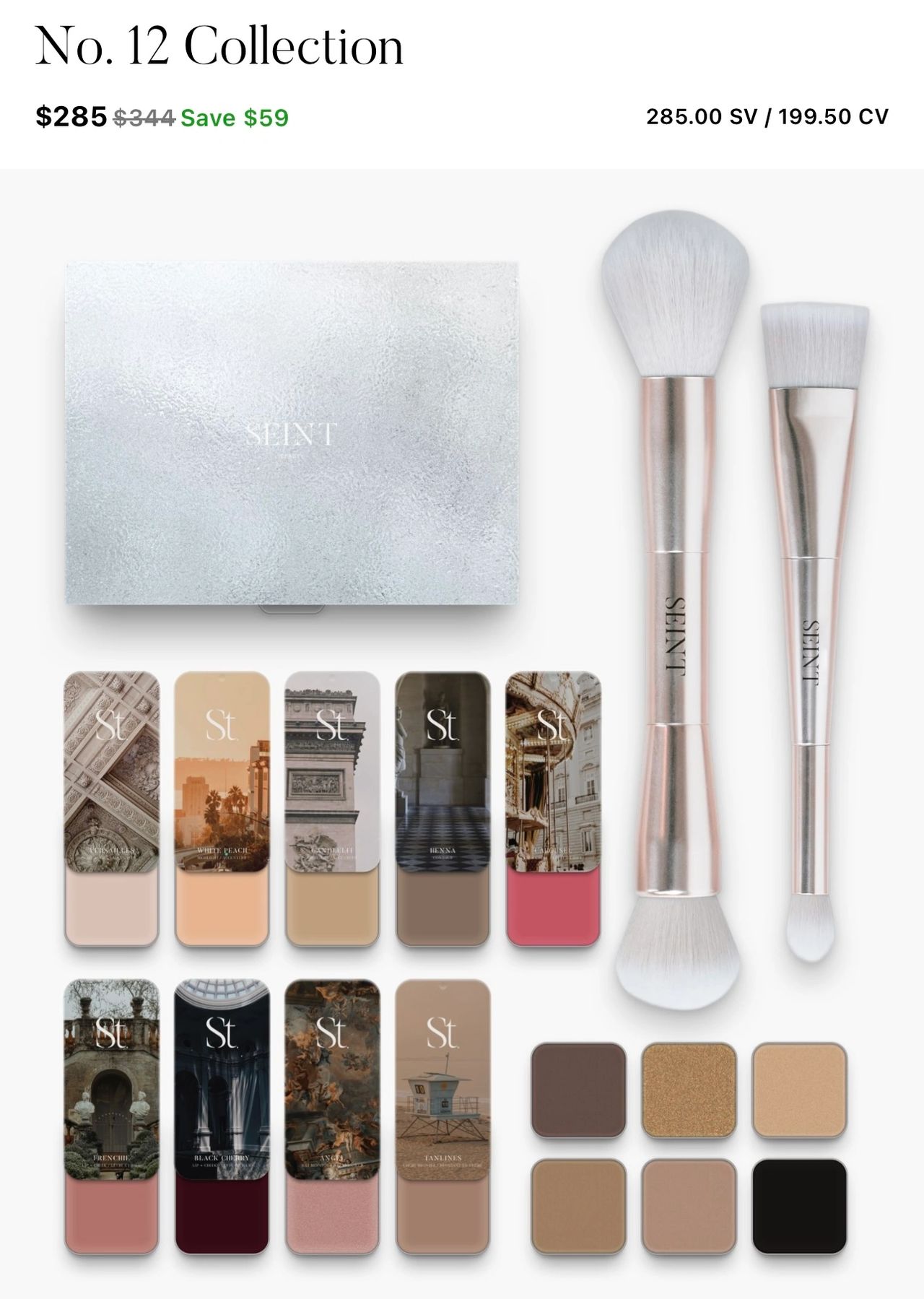 In Summary
Whether you choose your own shades from this collection or I personally color match you, I'm still here to help you get the most of your Seint IIID foundation.


If choosing your own contour shade is too hard then let me do it for you. I have the training to be able guide you with whatever skin condition you are struggling with. Many times, it can get overwhelming with looking at a Seint color match chart (shade chart) and you're not sure how to choose Seint colors that will work best for you.


Can't wait to get started with this amazing cream makeup? Then scroll down to my Seint Color Match form in red at 'Get Color Matched Here' and get matched today for full coverage makeup. This is completely FREE!


I guarantee you'll be surprised what a big difference the right colors can make!

Let's get your Seint Color Match done now!

---

Let me know if you have any questions I'm more than happy to help!



Updated on November 26, 2023
Seint Color Match (2023) – Get Color Matched!
I am a Seint Makeup Expert (Seint Artist), beauty and skincare educator, 30-year dental hygienist, mom of two boys and a bonus daughter. If I'm not pursuing my passion for beauty, skincare, and wellness, you can find me hiking, kayaking/paddling, or in the kitchen baking my latest obsession with sourdough bread!
I have provided a Seint Color Match for hundreds of women over the years. I love helping women of all ages find simplicity in their makeup routine so they can feel beautiful in their skin!